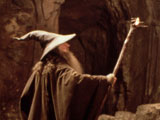 Warner Bros
Interactive Entertainment has confirmed that
The Lord of the Rings: Aragorn's Quest
will support the PS3's new motion control device.
The forthcoming action title sees players become the Aragorn character to relive some of the major battles from J.R.R. Tolkien's
The Lord Of The Rings
trilogy.
Featuring "gameplay created especially for the PlayStation 3 system", the title will also include support for the PS3's new control wand, the
PlayStation Move
.

According to WBIE, The Lord of the Rings: Aragorn's Quest will engage players with "intuitive motion-control gameplay where every controller gesture instantly and accurately translates to weapon strikes in the game".

PS3 and Wii gamers will also be able to engage in co-operative motion-controlled segments as Aragorn teams up with Gandalf for the major battles.

The Lord of the Rings: Aragorn's Quest will be released for PS3, PS2, PSP, DS and Wii in Autumn 2010.

TT Fusion is handling the DS, PS2, PS3 and PSP versions, while Headstrong Games is overseeing the Wii release.