Gaming News
No Doubt win ruling in Activision suit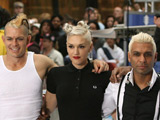 No Doubt
have reportedly won a favourable early ruling concerning the band's
lawsuit
against video game company
Activision
Blizzard Inc.
The rockers are suing Activision over misuse of their likeness for avatars in rhythm action title
Band Hero
.
A Los Angeles County Superior Court judge issued a ruling rejecting the gaming giant's effort to invoke freedom of speech protections in defence of its use of the No Doubt avatars, says the
Los Angeles Times
.
Last year, it was reported that Activision refused to alter the content of the game based on the band's suit because it would prove "too expensive".
The company has the right to appeal.