Gaming News
Xbox Live Arcade grows by 41%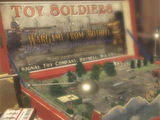 Xbox Live Arcade increased sales by 41% year-on-year in March, with Signal Games'
Toy Soldiers
proving its most popular title, new research has revealed.
According to a report by Forecasting and Analysing Digital Entertainment (FADE), gaming revenue on XBLA topped $10 million (£6.5m) last month for the first time ever.
Revenues reached $10.6m over the course of March, up from just $7.5m at the same time last year and $6.8 million in February 2010.
FADE said that the impressive sales figures were partially down to the promotion of the Xbox Live's Block Party featuring four major arcade titles, including action strategy game
Toy Soldiers
which sold 209,000 units.
The XBLA version of
Rare
's classic shooter
Perfect Dark
came in second place with 161,000 units, followed by
Trials HD
by RedLynx with 53,000 units.
FADE'S top ten biggest selling XBLA games in March 2010 runs as follows:
1.
Toy Soldiers
(Signal Games) - 209,000 units
2.
Perfect Dark
(Rare/4J Games) - 161,000 units
3.
Trials HD
(RedLynx) - 53,000 units
4.
Battlefield 1943
(EA Dice) - 37,000 units
5.
Castle Crashers
(The Behemoth) - 34,000 units
6.
Family Game Night
(Hasbro) - 32,000 units
7.
Scrap Metal
(Slick Entertainment) - 18,000 units
8.
Marvel vs. Capcom
(Capcom) - 25,000 units
9.
Shadow Complex
(Chair Entertainment) - 13,000 units
10.
Magic: The Gathering
(Stainless Entertainment) - 16,000 units