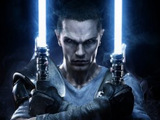 Activision
and LucasArts have revealed that
Star Wars: The Force Unleashed II
will be available in standard and Collector's Edition to UK customers.
The special edition version will come bundled with exclusive in-game content and a branded USB Flash Drive.
Bonus content includes three additional challenge mode levels, a Ralph McQuarrie concept 'Deak Starkiller' skin and a Lightsaber crystal. The USB Flash Drive comes loaded with wallpapers, a copy of the game's script and a digital art book.
The limited Collector's Edition also comes with a collectable SteelBook.
Star Wars: The Force Unleashed II
is released on October 29. The Collector's Edition will be available for PS3 amd Xbox 360.