1
Gaming News
'Zelda: Ocarina of Time 3D' dated in UK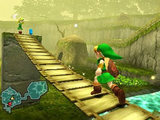 The Legend of Zelda: Ocarina of Time 3D
has been given a release date in the UK.
Nintendo
has announced that the remake, which will include revamped visuals, touch-screen functions and optional
Master Quest dungeons
, will be available from June 17.
The game will be available
two days sooner than the US version
, which was dated earlier today.
Also confirmed were release dates for
Dead or Alive: Dimensions on 3DS, Dragon Quest VI on DS and Conduit 2 on Wii.

The summer release line-up in full:

3DS:
Puzzle Bobble Universe (April 21)
Steel Diver (May 6)
LEGO Pirates of the Caribbean: The Video Game (May 13)
Dead or Alive Dimensions (May 13)
Sudoku -The Puzzle Game Collection (May 26)
Sports Island 3D (June 2)
Naruto Shippuden 3D The New Era (June 17)
The Legend of Zelda: Ocarina of Time 3D (June 17)

DS:
Thor: God of Thunder (April 29)
Plants vs. Zombies (May 6)
LEGO Pirates of the Caribbean: The Video Game (May 13)
Dragon Quest IVI: Realms of Reverie (May 20)
Challenge Me: Brain Puzzles 2 (June 17)
Solatorobo: Red the Hunter (July 1)

Wii:
Spongebob Squigglepants (April 21)
Conduit 2 (April 22)
DanceDanceRevolution Hottest Party 4 (April 28)
Virtua Tennis 4 (April 29)
Greg Hastings Paintball 2 (May 6)
Cabela's Dangerous Hunts 2011 (May 6)
LEGO Pirates of the Caribbean: The Video Game (May 13)
Green Lantern: Rise of the Manhunters (June 10)
Challenge Me: Brain Puzzles 2 (June 17)