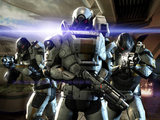 Bioware
has confirmed at E3 that
Mass Effect 3
will feature Kinect support.
The final game in the
Mass Effect
trilogy will allow players to issue voice commands using Kinect's vocal recognition.
Players will be able to issue squad commands during combat, as well as choose dialogue options when interacting with NPCs.
The announcement was made by BioWare CEO Ray Muzyka during
Microsoft's press conference
at this year's E3 event in Los Angeles.
In-game footage showed Commander Shepard meeting up and chatting with
Mass Effect 2
scientist Mordin, before a combat scenario broke out.
Muzyka stated that more information would be revealed during the Electronic Arts presentation later on today.
Mass Effect 3
will be released in early 2012 on Xbox 360, PlayStation 3 and PC.
More coverage from Microsoft's E3 2011 conference:
> Halo 4 to start new Xbox 360 trilogy
> Fable: The Journey announced for Kinect
> New Kinect Sports, Dance Central revealed
> Halo: Combat Evolved remake confirmed
> YouTube and live TV coming to Xbox 360
> E3 2011: Microsoft conference live blog
Watch the announcement trailer for
Mass Effect 3
below: