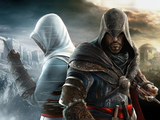 Assassin's Creed Revelations
is to include the original
Assassin's Creed
,
Ubisoft
has announced.
First-print copies of the PlayStation 3 version of the game will feature the 2007 original on the same Blu-ray disc.
Assassin's Creed Revelations
will see Ezio retrace the footsteps of his predecessor Altair, the protagonist of the original game.
The
multiplayer beta for PlayStation Network users
went live earlier this month.
Assassin's Creed: Revelations
will be released for PS3, Xbox 360 and PC on November 15 worldwide.
> Assassin's Creed: Revelations multiplayer preview
> Assassin's Creed: Revelations multiplayer interview: Ubisoft on improvements, changes
Watch the
Assassin's Creed: Revelations
gamescom 2011 trailer below: