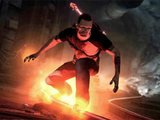 inFamous 2: Festival of Blood
headlines this week's PSN update.
The horror-themed downloadable content pack will be available to download for £7.99, while PlayStation Plus members will receive a 20% discount.
This Friday's release
Battlefield 3
is available to download in full for £49.99.
Elsewhere, you can download a demo of
Ratchet & Clank: All 4 One
, while
LittleBigPlanet 2
sees an
Invizimals
costumes.
> This week on PSN: Okabu
Read this week's PlayStation Network update in full:
PlayStation Plus new content
Alien Zombie Death (mini) - 100% discount for one week

Age of Zombies (mini) - 100% discount for one week

Dead Nation - 100% discount for one week

Alien Zombie Mega Death - 50% discount for one week

Burn Zombie Burn! - 50% discount for one week

Zombie Apocalypse - 50% discount for one week

infamous 2: Festival of Blood - 20% discount for one week

Halloween Special Offer Selection


Limbo (was £9.99/€12.99 - now £7.99/€9.99)

Sam & Max: The Devil's Playhouse (was £19.99/€24.99 - now £9.99/€12.99)

Prince of Persia Trilogy (was £31.99/€39.99 - now £15.99/€19.99)

Ghostbusters: Sanctum of Slime (was £7.19/€8.99 - now £4.39/€5.49)

Protoype (was £31.99/€39.99 - now £15.99/€19.99)

Full Games (PS3)


Battlefield 3 (£49.99/€69.99) (Available on Friday 28th October at 00:01 GMT)

Infamous 2 - Festival Of Blood (£7.99/€9.99)

Lego Pirates Of The Caribbean The Videogame (£31.99/€39.99)

Pixeljunk Sidescroller (£6.29/€7.99)

Ra One (£10.99/€13.99)

Demos (PS3)


Grease Dance 

Ratchet & Clank All 4 One Multiplayer Demo

Full Games (PSP)


Soul Calibur : Broken Destiny + Tekken 6 Bundle (£23.99/€29.99)

Exit 2 (Re-Convert) (£7.99/€9.99)

Minis (PS3 and PSP)


Open Emotion Studios Triple Pack (£2.49/€2.99)

Carnivores Bundle (£3.99/€4.99)

Bee Wars (£2.49/€2.99)

PSone (PS3 and PSP)


Silent Hill (£5.49/€6.99)

Add-On Game Content (PS3)

Battlefield 3 - Online Pass (£7.99/€9.99)
Dead Rising 2: Off the Record - CYBORG Skills Pack (£1.59/€1.99)
Dungeon Siege III - Treasures of the Sun (£7.99/€9.99)
Elevator Action Deluxe - Additional Character KIKIKAIKAI (free)
LittleBigPlanet - Halloween Mask (free) Rating: PEGI 7
MotoGP 10/11 - Gp Class 2011 Season Update (free)
MotorStorm Apocalypse - Halloween Livery Pack (free)
Soul Calibur IV - Full Weapon Set (£2.99/€3.59)
Street Fighter 3: Third Strike - Match Pack 1 (£3.19/€3.99)
TNT Racers - Drift Package (£2.39/€2.99)
WRC 2 FIA World Rally Championship- WRC 2 Game Team (£0.79/€0.99)
Worms Crazy Golf - Carnival Course (free)

Ace Combat Assault Horizon

Acah Dlc02 Asf-X [Magnificent Lightning Ii] (£4.79/€5.99)

Acah Dlc02 F-14D [Halloween Pumpkin] (£2.39/€2.99)

Acah Dlc02 F/A-18F [Red Devils] (£2.39/€2.99)

Compatibility Pack 2 (Free)

Castlevania: Harmony Of Dispair

Add-On Character 'Simon Belmont' (£1.59/€1.99)

Add-On Level 'Chapter 8′ The One Who Is Many (£3.19/€3.99)

Disney Universe

Absoluem Costume (free)

Daisy Costume (free)

LittleBigPlanet 2

Invizimals Costume Pack (£4.79/€5.99)
(Includes the following content, also available separately)

Flameclaw Costume (£1.59/€1.99)

Icelion Costume (£1.59/€1.99)

Metalmutt Costume (£1.59/€1.99)

Tiger Shark Costume (£1.59/€1.99)

Rock Band Network

Caraphernelia - Pierce the Veil (£0.99/€1.49)

Gymnopédie No. 1 - Thomas Walker (£0.59/€0.79)

Moonlight Ride - Free Spirit (£0.99/€1.49)

Very Busy People - The Limousines (£0.99/€1.49)

Willow Of Tears - Amberian Dawn (£0.99/€1.49)

Rock Band 3

I Believe In A Thing Called Love - The Darkness (£0.99/€1.49)

Living Dead Girl - Rob Zombie (£0.99/€1.49)

Super-Charger Heaven - White Zombie (£0.99/€1.49)

Thunder Kiss '65 - White Zombie (£0.99/€1.49)

Two Worlds 2

Pirates Of The Flying Fortress - Multiplayer (£15.99/€19.99)

Pirates Of The Flying Fortress - Single player (£23.99/€29.99)

Yoostar 2

Drag Race (£1.39/€1.75)

Rocky Balboa - Tell Me About The Stuff Inside (£1.39/€1.75)

Video Background - Fast Ride Through A Tunnel (£0.59/€0.75)

Voodoo Economics (£1.39/€1.75)

Some Like It Hot - Real Hot! (£1.39/€1.75)

Permanent Price Reductions (PS3)


Transformers: War For Cybertron - Map and Character Pack #1 (Was £7.99/€9.99 - now £3.99/€4.99)

Transformers: War For Cybertron - Map and Character Pack #2 (Was £7.99/€9.99 - now £3.99/€4.99)

Alien Zombie Death (minis) (Was £2.49/€2.99 - now £0.99/€1.19)

Astro Tripper (Was £3.19/€3.99 - now £1.59/€1.99)

Me Monstar: Hear me Roar! (Was £3.99/€4.99 - now £2.49/€2.99)

Sid Meier's Pirates! (Was £11.99/€14.99 - now £9.99/€12.99)