0
Gaming News
'Hydrophobia Prophecy' coming to PSN next week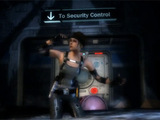 Hydrophobia Prophecy
will launch on PlayStation Network next week.
The third-person action game features advanced water physics to help combat enemies and affect the environment.
Hydrophobia
originally released on the Xbox 360
last year, and has received a number of improvements in
Hydrophobia Prophecy
.
The most prominent new feature is Darknet, which enables players to provide feedback about the game to the developers at any time.
The game will also be featured as the Game of the Month on PlayStation Plus, making it free to subscribers during November.
Hydrophobia Prophecy
will launch on PlayStation Network on November 1 in North America and November 2 in Europe.
> Read more gaming news