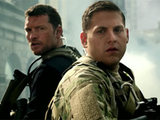 Modern Warfare 3
has been given a live-action trailer.
The clip sees veteran player
Sam Worthington
take the inexperienced 'n00b' Jonah Hill under his wing in a variety of combat scenarios from the game.
The video also features a cameo appearance from NBA basketball player Dwight Howard.
Last week, Microsoft warned that
early players of Modern Warfare 3 faced bans
on Xbox Live.
Call of Duty: Modern Warfare 3
will release for PC, Xbox 360 and PlayStation 3 on November 8 worldwide.
> Call of Duty: Modern Warfare 3 pirated copies leaked online
> Call of Duty XP: Impressions from the world's first Call of Duty expo
> Modern Warfare 3 multiplayer hands-on preview
Watch the
Modern Warfare 3
live-action trailer below: