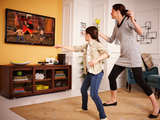 Kinect could be built into television sets in the near future, according to a report.
Microsoft
is in early talks with Sony and other manufacturers to see the hands-free controller pushed into as many living rooms as possible, according to
The Daily
.
It would allow for gesture-based controls for operating televisions, and would most likely network with a Windows PC for further applications.
It is also speculated that televisions could recognise individual people and then resume specific programming from where it was last left.
Microsoft has plans to release a
commercial software development kit for Kinect
sometime next year.
Kinect will also be used as part of a
series of interactive television shows with Sesame Street and National Geographic
.
> Kinect's 2011 release lineup: Feature
> Feature: Impressive Kinect hacks