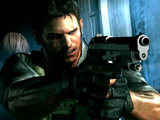 Resident Evil 6
could be set in China, according to a report.
The resume of actress Wendy Mok has seen her provide voice work for the unannounced project as a 'Chinese Village / Zombie', according to
The Silent Chief
.
Asia is currently an unexplored territory for the long-running survival horror series, which has been set in North America, Europe and Africa.
It's the second time this week that
Resident Evil 6 has appeared on a voice actor's resume
.
Capcom
first discussed Resident Evil 6
in early 2009, saying that it would "reinvent the series" to keep it fresh.
The publisher has said that
Resident Evil 6 would focus more on horror
following two action-driven iterations.
It was also recently
rumoured for a Tokyo Game Show reveal
, but failed to come to light.
> Read Digital Spy's review of Resident Evil: The Mercenaries 3D on Nintendo 3DS