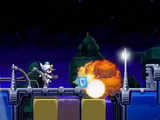 Mighty Switch Force
headlines this week's
Nintendo
update.
Take on the role of space police officer Patricia Wagon in the 3DS debut from developer WayForward, best known for the critically acclaimed
Shantae: Risky's Revenge
. Download it for £5.40.
In another highlight, Nintendo is launching the
Nintendo Letter Box
application, which allows users to send messages to friends or exchange notes, doodles and photos through StreetPass.
Also available this week are
Football Up
and a demo for
MotoHeroz
on WiiWare,
Tetris
on the 3DS virtual console and
Castle Conqueror Heroes
and
Commando: Steel Disaster
on DSiWare.
> Read last week's Nintendo download update
This week's Nintendo download update in full:
3DS eShop
Mighty Switch Force (£5.40)

Nintendo Letter Box (Free)

Tetris (£3.60)
DSiWare
Castle Conqueror Heroes (500 Nintendo Points / £4.50)

Commando: Steel Disaster (800 Nintendo Points / £7.20)
WiiWare
Football Up (500 Nintendo Points / £4.50)

MotoHeroz Demo (Free)