0
Gaming News
'Tony Hawk's Pro Skater HD' images released - gallery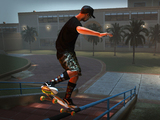 Tony Hawk's Pro Skater HD
has been given new screenshots.
Revealed at the Spike Video Game Awards last month
, the downloadable title will feature stages from the first two Tony Hawk's Pro Skater games in HD.
As well as Hawk, professional skaters starring in the game include Eric Koston, Andrew Reynolds, Rodney Mullen, Lyn-z Adams Hawkins (Pastrana), Nyjah Huston, Chris Cole and Riley Hawk.
Tony Hawk's Pro Skater HD
will be available for Xbox Live Arcade and PSN later this year.
> Skyrim wins top prize at Spike TV video game awards
View images of
Tony Hawk's Pro Skater HD
below: