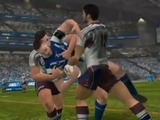 Rugby League Live 2
has been announced by
Big Ant Studios
and Tru Blu Entertainment.
The sports simulation is in development for Xbox 360 and PlayStation 3, and will be released later this year.
Backed by an extensive licensing agreement,
Rugby League Live 2
includes teams and leagues from the NRL, Super League, Cooperative Championships, NSW and QLD cups, and Toyota Cup, as well as Australian, English and New Zealander international championships.
The game features numerous improvements over its 2010 predecessor, including a new tracking system, refined gameply moves, and custom teams and players,
GameSpot
understands.
It also provides competitive and co-operative multiplayer matches with up to eight players online, along with a ten-year career mode and new experience system.
Watch a trailer for
Rugby League Live
below: