Splinter Cell: Blacklist
will launch on March 29, 2013, according to
Amazon
.
The online retailer also lists a special
Upper Echelon Edition
, which features a selection of digital content.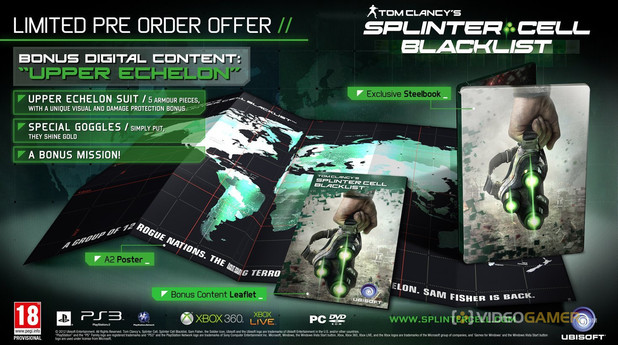 Packaged in a steelbook case, the
Upper Echelon Edition
contains an A2 map of the conflict zone, as well as a bonus mission, an Upper Echelon operational suit and Upper Echelon goggles.
The downloadable suit features five armour pieces, with a unique visual and damage protection bonus, while the goggles are said to "shine like gold".
Splinter Cell: Blacklist
was unveiled by Ubisoft during
Microsoft's E3 press conference
.
The game will feature Kinect integration, allowing players to distract enemies and call for support using voice commands.
A new
Splinter Cell
has been rumoured since the release of
Conviction
in 2010.
The
game was outed in a promotional video
by Ubisoft's Jade Redmond, who confirmed that the game would be developed entirely in Toronto.
Splinter Cell: Blacklist
is currently confirmed for the Xbox 360, PS3 and PC.
Watch a gameplay demo for
Splinter Cell: Blacklist
below: