Quantum Conundrum
headlines this week's European PlayStation Store update.
From the imagination of
Portal
co-creator Kim Swift, players must explore a trap-filled mansion using a dimension-shifting glove to solve devious puzzles and rescue Professor Quadwrangle.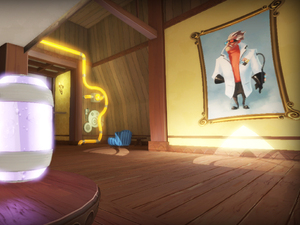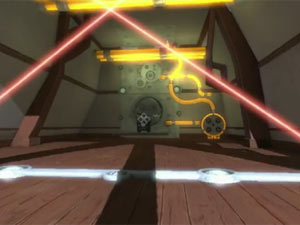 Also available is
Dungeons & Dragons Daggerdale
, which enables players to team up both locally or online to tackle locations such as the mines of Tethyamar or the Tower of Rezlus.
Frogger: Hyper Arcade Edition
makes its debut on the PlayStation Store for £7.99, featuring classic and brand-new game modes, as well as 8-bit sprites from the likes of
Contra
and
Castlevania
.
There's also DLC for
Dragon's Dogma
,
Game of Thrones
and
Street Fighter X Tekken
.
> Read last week's PlayStation Store update
This week's update in full:
PS3 Games
Dungeons & Dragons Daggerdale - £10.99

Frogger: Hyper Arcade Edition - £7.99

Pinball Arcade (Purchase includes access to a Free version for PS Vita) - £7.99

Quantum Conundrum - £8.79

Judge Dee – The City God Case - £6.49

PS3 Demos


Dungeons & Dragons Daggerdale

Frogger: Hyper Arcade Edition

Pinball Arcade

Quantum Conundrum

PlayStation Vita Games

MLB 12 The Show - £23.99
Pinball Arcade (Purchase includes access to a Free version for PS3) - £7.99

minis


Indie Bundle - £4.99

PS3 Add-ons

Babel Rising


The Isthar Gate - £2.39

Disgaea 4


Ash - £2.39

Bottle Ship - £1.59

Marona - £2.39

Phantom Isle Map - £0.79

The Fuka & Desco Show - £9.99

Dragon's Dogma


From A Different Sky: Part 8 - £0.79

Notice Board Quests: The Challenger - £2.39

Game Of Thrones


Dog Skin Pack - £0.79

Valar Morghulis Pack - £2.39

Hyperdimension Neptunia Mk2


Skill Pack - Free

LittleBigPlanet 2


Summer Games Costume Pack - £2.39

Fencer Costume - £0.79

Gymnast Costume - £0.79

Horse Rider Costume - £0.79

Tennis Girl Costume - £0.79

Track And Field Costume - £0.79

Wrestler Costume - £0.79

Magic 2013


Ajani/Celestial Light Foil - £0.79

Ajani/Celestial Light Unlock - £0.79

Chandra/Born Of Flame Foil - £0.79

Chandra/Born Of Flame Unlock - £0.79

Garruk/Pack Instinct Foil - £0.79

Garruk/Pack Instinct Unlock - £0.79

Jace/Dream Puppets Foil - £0.79

Jace/Dream Puppets Unlock - £0.79

Krenko/Goblin Gangland Foil - £0.79

Krenko/Goblin Gangland Unlock - £0.79

Liliana/Obedient Dead Foil - £0.79

Liliana/Obedient Dead Unlock - £0.79

Nefarox/Exalted Darkness Foil - £0.79

Nefarox/Exalted Darkness Unlock - £0.79

Odric/Peacekeepers Foil - £0.79

Odric/Peacekeepers Unlock - £0.79

Talrand/Crosswinds Foils - £0.79

Talrand/Crosswinds Unlock - £0.79

Yeva/Ancient Wilds Foils - £0.79

Yeva/Ancient Wilds Unlock - £0.79

Pure Chess


Pure Chess Roman - £1.59

Rainbow Moon


Rainbow Moon – 50,000 Rainbow Pearls (Gorodo) + Fire Ring - £1.59

Rainbow Moon – 50,000 Rainbow Pearls (Serena) + Wind Pearl Ring - £1.59

Rainbow Moon – 50,000 Rainbow Pearls (Zelorus) + Black Ring - £1.59

Rainbow Moon – 90,000 Rainbow Coins - £1.59

Rainbow Moon Amulet Set (Double) - £1.19

Rainbow Moon Starter Pack (Medium) - £1.59

Rainbow Pearls Bundle (Large) - £5.49

Soul Calibur V


Cepheus Compatibility Pack 7 - Free

Classic Costumes - 1.59

Sexy Costumes 2 - £1.99

Tekken Costumes 2 - £1.59

Street Fighter X Tekken


Colour Palette Add-On 5 - Free

Combo Editor - £2.39

SF Boost Gem Pack 7 - £0.79

SF Boost Gem Pack 8 - £0.79

TK Boost Gem Pack 7 - £0.79

TK Boost Gem Pack 8 - £0.79

PlayStation Vita Add-ons

Gravity Rush


Maid Costume Pack - £3.19

Pure Chess


Pure Chess Roman - £1.59