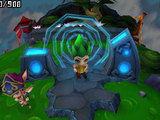 Planet Crashers
headlines this week's Nintendo eShop update.
Embark on a dungeon crawling adventure across the galaxy to stop an evil entity from snuffing out the sun.
Planet Crashers
is available in the 3DS eShop for £9.00.
Also available in the 3DS eShop is the Game Boy classic
Kirby's Pinball Land
, four new downloadable songs for
Theatrhythm Final Fantasy
and the 3D videos
The Incredible Barbazan: The Human Cannonball
and
Kingdom of Plants 3D
.
Meanwhile, new titles
Candle Route
and
Decathlon 2012
are now available in both the 3DS eShop and on DSiWare.
Finally, the Wii shop gets an update with the high speed rail shooter
Horizon Riders
on WiiWare.
> Read last week's Nintendo download update
This week's eShop update in full:
3DS eShop
3DS Game Add-Ons
Theatrhythm Final Fantasy
Tower of the Magi (FF02 - FMS) (£0.90)

The Darkness of Eternity (FF09 - BMS) (£0.90)

Desperate Fight (FF12 - BMS) (£0.90)

Battle 1 (FF05 - BMS) (£0.90)
3DS Videos
The Incredible Barbazan: The Human Cannonball (£1.40)

Kingdom of Plants 3D (Free)
DSiWare
Candle Route (200 Nintendo Points / £1.80)

Decathlon 2012 (500 Nintendo Points / £4.50)
WiiWare
Horizon Riders (800 Nintendo Points)