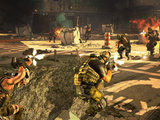 Army of Two: The Devil's Cartel
has been announced by
Electronic Arts
.
The action game sequel promises a more mature and grittier tone, as the mercenaries Alpha and Bravo take to the streets of Mexico amid a deadly drug war.
It will once again feature the signature co-operative play of the series, both online and with offline split-screen play.
"We wanted to refresh the
Army of Two
franchise for a new generation of action gamers, and at the same time, stay true to the core concept that really made the first two games fan favourites," said Visceral Games executive producer Julian Beak.
"With meaningful, seamless co-op gameplay at its core and explosive new tag-team features, gamers will have to work together tactically and strategically as they push through a city dominated by one of Mexico's deadliest drug cartels."
The game will feature deep upgrade and customization option, allowing players to tailor their mercenary's appearance, abilities and weapons.
It is being developed by Visceral Games in Montreal, formerly EA Montreal, which developed the previous
Army of Two
titles. It will use the Frostbite 2.0 engine, which powered games like
Battlefield 3
.
Army of Two: The Devil's Cartel
will be available for Xbox 360 and PlayStation 3 in March 2013.
> Read Digital Spy's review for Army of Two: The 40th Day
Watch the debut trailer for
Army of Two: The Devil's Cartel
below: