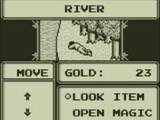 The Sword of Hope 2
headlines this week's Nintendo eShop update.
This Game Boy classic role-playing game returns for the 3DS virtual console. Embark on an adventure to retrieve the Sword of Hope from the demon Zakdos and rescue the kingdom.
The Sword of Hope 2
is available in the 3DS eShop for £2.70.
Also available in the 3DS eShop is the high-speed tunnel racing game
SpeedX 3D
and the 3D video
The Incredible Barbazan: Raging Bull
.
Meanwhile, new titles
90's Pool
and
101 Pinball World
are now available in both the 3DS eShop and on DSiWare.
Finally, the Wii shop gets an update with the educational WiiWare game
Successfully Learning English Year 3
.
> Read last week's Nintendo download update
This week's eShop update in full:
3DS eShop
The Sword of Hope 2 (£2.70)

SpeedX 3D (£2.70)
3DS Videos
The Incredible Barbazan: Raging Bull (£1.40)
DSiWare
90's Pool (500 Nintendo Points / £4.50)

101 Pinball World (500 Nintendo Points / £4.50)
Wii Virtual Console
Successfully Learning English Year 3 (800 Nintendo Points)