1
Gaming News
Injustice: Gods Among Us new details, Catwoman trailer - gamescom 2012
Injustice: Gods Among Us
has been given a new trailer by
Warner Bros. Interactive
.
The new video introduces Catwoman, the latest playable character to be announced for the upcoming fighting game.
Catwoman joins a cast that includes Batman, Harley Quinn, Solomon Grundy, Superman, The Flash, Wonder Woman and the
recently-announced Cyborg and Nightwing
.
Also unveiled at this year's gamescom expo in Germany is the inclusion of interactive objects, super moves and multi-tiered stages.
The Metropolis-based Future City stage, for example, features three tiers: the street, the rooftop and the museum.
The Batcave, meanwhile, contains two stages which can be navigated by smashing players through the floor or into elevators.
Background items can also be used to the player's advantage, offering different benefits to different character types.
Powerful characters such as Superman have the ability to throw cars, while speedy fighters can bounce off the same vehicles to perform unique aerial attacks.
Players can also use the environment to escape corners, or damage parts of the background to expose danger zones. One example sees players expose deadly electrical wires by smashing opponents into its protective casing.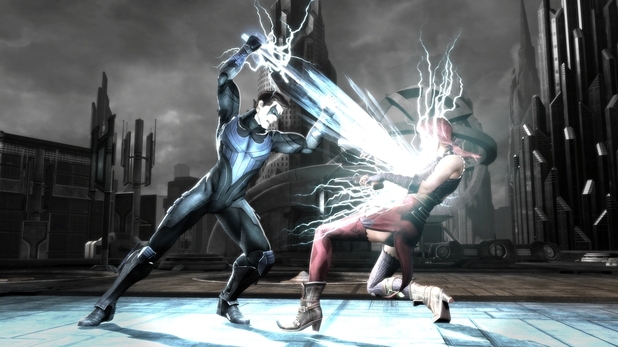 The developers have also dropped the traditional three-round fighting system, opting instead for a "more cinematic" single-round system.
Announced in May
,
Injustice: Gods Among Us
is said to have a deep original story, taking place in "a world where the lines between good and evil are blurred".
NetherRealm is developing the title following last year's success with
Mortal Kombat
. In 2008, the team also created
Mortal Kombat vs DC Universe
as Midway Games.
Injustice: Gods Among Us
is scheduled to release in 2013 on Xbox 360, PlayStation 3 and Wii U.
Watch the
Injustice: Gods Among Us
announcement trailer below: