0
Gaming News
'Phoenix Wright: Ace Attorney HD Trilogy' announced for iOS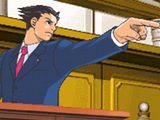 Phoenix Wright: Ace Attorney HD Trilogy
has been announced for iOS devices by
Capcom
.
The game will be available as a free download, featuring the first two cases from
Phoenix Wright: Ace Attorney
available to start.
Users will then be able to purchase individual cases or entire game bundles from the first game as well as from its sequels
Phoenix Wright: Ace Attorney Justice for All
and
Phoenix Wright: Ace Attorney Trials and Tribulations
.
Capcom used a similar release plan for
Ghost Trick
earlier this year, and priced the full game at £7 / $10 after playing the included free stages.
Each game will be enhanced with high definition visuals, redrawn for the iOS version based on the original Nintendo DS sprites.
In addition to the three games, the iOS release will include the Everybody Object mode, letting users email and tweet signature phrases like "Objection!", "Hold it!", and "Take that!" complete with their in-game animations.
Phoenix Wright: Ace Attorney HD Trilogy
does not yet have a release date, nor is Capcom discussing the pricing for cases at this time.