2
Gaming News
'Assassin's Creed 3' Connor story trailer - watch now
Assassin's Creed 3
has been given a new trailer by
Ubisoft
.
The latest video delves into Connor's history, showing how the new protagonist grew to become an assassin.
Officially unveiled in March
,
Assassin's Creed 3
will take place over a 30-year period in colonial America beginning in 1777.
It will be accompanied by PlayStation Vita spinoff
Assassin's Creed 3: Liberation
, which was announced at this year's E3 Gaming Expo.
Photo gallery - 'Assassin's Creed 3' - naval warfare: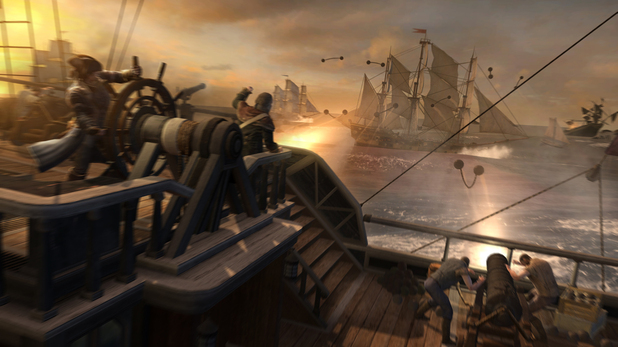 Liberation
will support cross-play with the PlayStation 3 edition of
Assassin's Creed 3
, allowing players to unlock bonuses in both games by trading goods.
Ubisoft recently confirmed that it will offer a season pass for
Assassin's Creed 3
DLC, which will include the
'Tyranny of King Washington'
single-player expansion.
Assassin's Creed 3
and
Liberation
will be released for Xbox 360, PlayStation 3 and PlayStation Vita on October 31 worldwide.
A Wii U version is also in development and will be available during the system's launch window this holiday season.
The title is on course to break
Ubisoft's record for the most pre-ordered game of all time
.
> 'Assassin's Creed 3' preview: Three hours with the captivating sequel
> Digital Spy's 'Assassin's Creed 3' interview with Ubisoft
> Assassin's Creed 3 Liberation preview: Vita edition is dressed to kill
Watch the
Assassin's Creed 3
Boston Tea Party trailer below: