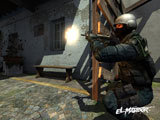 Third-person action fest
El Matador
has been published exclusively online, its developer Plastic Reality Technologies has announced.
On sale under the Sprocket Idea website, which allows gamers to buy and download games developed by members of IDEA games,
El Matador
sees the player become a DEA special agent whose task is to take down the drug barons of South America.
According to its creator, the main features of the game include, "Hard-hitting, movie-style storyline; a huge arsenal of realistic weapons; a diverse South American settings, from lush jungle to mansions and harbours; real physics, interactive environments and destructible objects; gang members, clan bosses, kingpins, and many more villainous enemies; atmospheric engine animations bring the scenery to life; wide range of graphical effects, including cascading shadow maps, high dynamic range; rendering and many more as well as a slow motion action feature"
To buy the game, visit the
official website
.