Gaming News
Ronaldinho to front 'FIFA 08'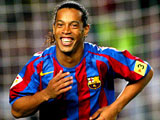 Electronic Arts has announced it has signed up football player Ronaldinho to front the next chapter in its best-selling soccer franchise.

FIFA 08, in development for Xbox 360, PSP, PC, PS2, PS3, Nintendo DS and Wii, will see the world class midfielder feature on the packaging of the game as well as appearing in an extensive marketing campaign the firm is planning.

EA also revealed the star is being motion-captured for FIFA 08 and they plan to use his body movements, individual moves and playing style to create the in-game animation.

"Ronaldinho and all the FIFA 08 cover stars bring a passion for the sport that is raw and true. They enjoy helping us bring that real-world experience into the game," said Matt Bilbey, International Director at EA SPORTS. "Their expert skills, commitment to success and passion for football inspire our development team and help us make FIFA 08 the most natural-feeling football video game in the world."

FIFA 08 will be released in the autumn.