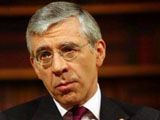 Politician Jack Straw has condemned games developers and publishers, claiming they do not take responsibility for the content they produce.
Straw made the comments during Parliament questions, prompted by famed games critic and Labour MP Keith Vaz.
Following the banning of controversial title
Manhunt 2
and the furore over PC game
Law and Order: Double or Nothing
, which featured an image of murdered toddler James Bulger, Vaz said: "There is a clear need for better regulation of the videogames industry."
"Will the Leader of the House please tell us when he expects a statement to be made, or when we may have a debate on the social responsibilities of those who make a huge amount of money out of these videogames?" Vaz added.
Straw, responding to the comments made by Vaz, said: "We do not see sufficient social responsibility and understanding by the creators and purveyors of such games.
"I will of course ensure that the [Prime] Minister is made fully aware of my right honourable Friend's concerns."