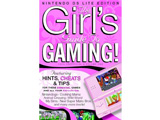 A book aiming to offer something for the new wave of female gamers entering what was once a male-dominated world has gone on sale for £9.99.
Entitled
The Girl's Guide to Gaming
, the 256-page paperback, published by Black Dog Media, offers advice, hints, tips and cheats while focusing on the girl-friendly Nintendo DS handheld.
"By marketing the Nintendo DS as a console for the entire family whilst Sony pushed the PSP as the latest new cool 'boy toy', the battle between the two was over before it could begin," said Black Dog's James Gale, speaking to
MCV
.
"Nintendo didn't want to fight over the same demographic as Sony, so they created a complete new one, a market in which it wasn't only boys that played games."
Gale added: "It's hats off to Nintendo. Without their bravery to push the market away from the old boys' club, I doubt we would now be part of a fresh marketplace, where female gamers have been given a long overdue voice."