Gaming News
Wii tops league of most in-demand products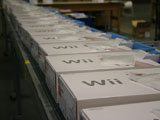 The Nintendo Wii has topped a league table of the most searched-for products by UK internet shoppers during November.
According to competitive intelligence company Hitwise, the system enjoyed 13 times more searches than the Apple iPod and twice as many as the combined figures for iPod and iPhone.
Hitwise, who also added that Nintendo Wii searches were up 158% compared to November 2006, believes the machine's rise to fame is significant.
"The Nintendo Wii is hugely popular this year, accounting for six in every ten searches for a games console," Hitwise's director of research Robin Goad said.
"The popularity of the Wii and the Nintendo DS mean that there were more searches for Nintendo products in November than Apple products. This is despite the significant increases in searches for both the iPod and the iPhone, which is currently the most searched for mobile phone in the UK."
For the two weeks ending December 1, the top ten most searched-for items on shopping sites were:
1.
Nintendo Wii - 0.19%
2.
Nintendo DS - 0.07%
3.
Ugg boots - 0.07%
4.
Lego - 0.06%
5.
Bratz - 0.06%
6.
iPhone - 0.06%
7.
iPod - 0.05%
8.
Barbie - 0.04%
9.
iPod Nano - 0.04%
10.
Xbox 360 - 0.03%