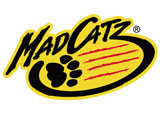 Users who own an Xbox 360 console without an HDMI port will soon be able to enjoy high-definition gaming after peripheral manufacturer Mad Catz announced the launch of an HDMI Conversion Kit.
The accessory, described by Mad Catz as 'revolutionary', will allow any Xbox 360 console to connect directly to any standard HDMI TV input.
The kit connects to the 'AV Output' at the rear of the console and, according to Mad Catz, the device 'utilises advanced microprocessor technology, converts the analogue signal to a digital HDMI stream, outputting all popular HD resolutions up to and including 1080p and compatible with HDMI 1.3 standard'.
Darren Richardson, president and chief executive officer of Mad Catz said: "HDMI is widely recognised as the connection standard for the High-Definition age in which we live, delivering unsurpassed visual and audio quality. However, millions of Xbox 360 consoles are not equipped with an HDMI output and owners are unable to take advantage of the benefits an all-digital connection provides.
"Mad Catz' Xbox 360 HDMI Conversion Kit provides gamers with a digital video and audio solution that we believe will be embraced by owners of HD-TVs and those who demand the best from their entertainment."
The Xbox 360 HDMI Conversion Kit will be released in March and priced at £49.99.