Gaming News
'CoD4' enjoys 'huge' online following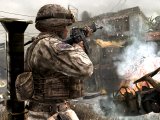 Call of Duty 4: Modern Warfare
developer Infinity Ward has announced its chart-topping game is attracting a 'huge' online following.
The firm said the title is enjoying "between 1.2 and 1.3 million users every day" on Xbox Live, adding that the online numbers on the PlayStation 3 are also "monstrously huge".
Discussing the online figures for Xbox Live, producer Mark Rubin told
Eurogamer
: "That's just 360. There's even more on the other platforms [PS3 and PC], but we just don't have the same numbering system. Overall, even without the other consoles, we are beating the competition. PS3 numbers are monstrously huge. No other game has come close, either online current, or total unique users in a day."
Call of Duty 4: Modern Warfare
has sold over seven million copies since its release and is currently the most played title on Xbox Live.