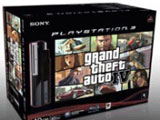 A new PlayStation 3 bundle has been unofficially announced after an online report revealed the new package will include a copy of forthcoming epic
Grand Theft Auto IV
.
Retailer Shopto announced the news, revealing that the £299 bundle, which will launch on April 29, will include both a copy of the game and a 40Gb PlayStation 3 console.
"We know for a fact it is coming out in Europe and we are expecting an announcement in the UK any time," confirmed Igor Cipolletta, COO of Shopto.com.
The announcement saw a flood of online comments, with one gamer stating: "This will fly off the shelves...now all we need is an official 360 bundle!"
Official confirmation of the Sony and Rockstar bundle is expected next week.