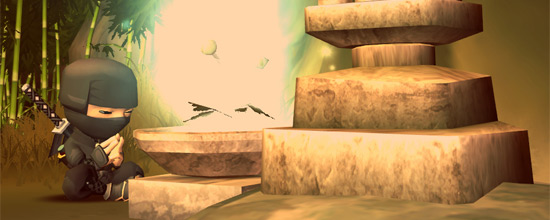 Also available on
: PS3, PC, Wii
Developer
: IO Interactive
Publisher
:
Eidos
Genre:
Action-Adventure
Release date
: September 11, 2009
At a glance,
Mini Ninjas
shares a lot of similarities with the
Legend Of Zelda
series. As a magic-wielding child who's also a dab hand with a sword, you take off from your sleepy village to tackle an ancient evil across faraway lands. The heart-based health system, cartoon-inspired visuals and cute arsenal of bombs does it no favours in the individuality stakes, and within a few minutes it's apparent it doesn't have the honed polish of Nintendo's finest.
Whether the game intentionally goes after the
Zelda
crowd is a moot point considering it's mechanically very different. While
Zelda
has a stiff, almost tank-like control scheme that keeps him sown to the ground, our team of samurai-fighting ninjas are appropriately nimble in their movement, scaling cliff faces and hopping across rivers using perilously-placed stepping stones. Although it has the roots of a platformer, more complicated manoeuvres such as wall-running are surprisingly sticky and imprecise, but thankfully it rarely asks you to use these techniques in the field, instead opting for more basic leaps and climbs that feel simple but enjoyable.
Hiro's quest to stop the evil samurai uprising and rescue his hapless friends is largely a linear affair. Although higher ledges and bodies of water lend themselves toward branching exploration, they're short-lived diversions before channelling you back on the straight and narrow. Levels are a routine of travelling from fortress to fortress and defeating their overlords, overcoming the numerous samurai that cross your path. Although you can hide in tall grass and tackle patrolling groups without being seen, its overall linearity and area-by-area approach gives it the feeling of a brawler, albeit a simple one.
But like the platforming, it's still satisfying; button mashing will easily win you battles, even against groups, except when you're required to draft in the bruiser Futo to tackle heavies, or carefully stun the more nimble and magical foes. The power attacks make your job easier still, where Hiro can stop time, highlight a group and vanquish them in one go (resulting in a power orb as a reward, allowing you to repeat the process over and over). The result is that Hiro and his sword attacks are more than what's necessary, meaning all the little extras - from the rescued ninjas and their different skills, possessing animals to sneak around enemies, and all the spells and items you accumulate on your quest - are ultimately pointless.
Although it lacks challenge, that's not to say it's not enjoyable. Exploring the temples and hidden coves and finding their riches is still a fun experience, and you'll eagerly mop up additional enemies to reach that next level and powered up ability, even if you can easily do without it. It's also partly down to some wonderful sights you'll see on your quest, where a flawless framerate opens up huge, fully explorable canyons and waterfalls on a regular basis, as well as the endearing animation for the comically-incompetent enemy forces that trip over themselves when they see you coming. The strong, defined visual style certainly helps to gloss over the cracks, and make moments such as sneaking across enemy castles using high wires and barrelling down snowy mountains so memorable.
A few other niggles attempt to hijack the otherwise pleasurable nature of the game, including an occasional stuttering camera and almost ridiculous save system. While regular checkpoints make up for the lack of an autosave, the fact that you can only use them once and without the presence of enemies would be almost inexcusable if it wasn't for the easy difficulty. The regular water bodies, which are cutely navigated with an oversized hat acting as a raft, become a bane to navigate due to sluggish controls, especially in the water rapid sections that need quick-fire reactions.
Mini Ninjas
should be a flawed product, and on paper, the negative aspects easily outnumber the positive, especially with its absent difficulty and lack of length. But it's an adventure that's more than the sum of its parts, and one that you simply can't help but enjoy playing. It's genuinely sweet and heartwarming to behold, and although the platforming is technically imprecise and save system absurd, the bulk of the experience - the button-mashing combat - is solid and surprisingly good fun. Although it might be aimed at younger players, and platforming and action veterans might scoff at what's on offer, you'll be pleasantly surprised by its offerings.

> What do you think of the game? Share your views