4
Gaming Review
'Forza Motorsport 4' review (Xbox 360)
Released on Friday, Oct 14 2011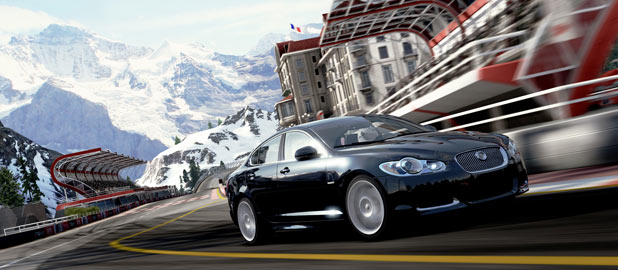 Also available on
: N/A
Developer
: Turn 10 Studios
Publisher
:
Microsoft
Games Studios
Genre
: Racing
Forza Motorsport 4
arrives exactly two years after its predecessor thundered ahead of its racing genre rivals, leaving them behind to choke on a rather large trail of dust. In the two years since its release, petrolheads with a soft spot for racing simulators will no have no doubt enjoyed
Gran Turismo 5
and the excellent
F1
series, all the while waiting for the current king of the racers to return. The question is, can Turn 10 Studios improve upon perfection, or has the
Forza
series run out of fuel?
The answer to that question is evident mere moments after inserting the disc.
Top Gear
's Jeremy Clarkson heads up the welcoming committee with a rousing tribute to the automobile and we, the dying breed of fans who crave speed, style and the smell of burning tyres screeching over a twisty stretch of tarmac.
With players feeling suitably inspired, it's behind the wheel for one lap of the brand new and quite spectacular Bernese Alps race course. It's undoubtedly one of the
finest gaming intros
we've come across, and sets the tone for what's to come.
In fact,
Forza Motorsport 4
is one big love-in between man and machine. Autovista - a virtual showroom featuring some of the world's finest motors - perfectly encapsulates this. Cars are unlocked by completing challenges, before being thoroughly scrutinised by enthusiasts.
Players can explore the inside and out of each car, and find out more about its engine, tyres and so on by selecting highlighted areas. Selecting special
Top Gear
logos, meanwhile, sees Jeremy Clarkson deliver more of his witty and amusing monologues, which prove both interesting and entertaining.
Whether viewing cars in Autovista or taking to the track,
Forza Motorsport 4
's visuals are a genuine treat. The brand new lighting effects, in particular, are wonderful. Sun rays and studio lights positively bounce from the bonnet of a freshly waxed Merc or brand new BMW, almost blinding players in the process. Subtle touches such as tyre smoke, dirt and dust trails also look fantastic, while the impressive frame rate ensures that the game can keep up with the cars as they whizz around the track.
The courses also look superb, despite many of them having already featured in the previous game. Aside from the dull as dishwater
Top Gear
test track (which is great to play, but boring to behold), the five new courses - including Hockenheimring and the wonderful Infineon Raceway - look amazing, while the stunning vistas found in the Bernese Alps and Fujimi Kaido race track are a distraction likely to cause one or two crashes.
Of course, crashing in
Forza
isn't the end of the world when you can rewind time, a feature that has returned from the previous entry. In fact, almost everything that made
Forza Motorsport 3
such an excellent and accessible racing sim has been reintroduced.
Navigating the darker menu screens is a breeze (unlike
Gran Turismo 5
), car tuning and upgrading is as simple or complex as you want it to be, while multiple levels of assistance are available for the rookie and the veteran.
Experience and Affinity points are once again earned on a sliding scale - depending on assists - which acts as an incentive to improve, as does the little mark against heavily assisted lap times.
Cars handle better and feel weightier this time around, while improved physics and artificial intelligence leads to far more unpredictable races. Rivals will spin out of control ahead of you, while minor clips and knocks can be game changers depending on speed and momentum. It makes a change from some racers where opposition cars are borderline indestructible and rival racing drivers are infallible.
Very little has changed in terms of game modes, with World Tour replacing Season Play, but offering largely the same experience. As well as the usual multitude of races, events and championships, there are a few new challenges to complete - including bowling, drift events and multi heat races - and while the additions are by no means significant, they definitely add a little extra variety. The better you perform, the harder the rivals become, while players also have the choice of which cars to unlock after certain victories.
Forza Motorsport 4
's online mode has received the biggest shake up, considerably improving on its predecessor's rather average efforts. Rivals mode, which is similar to
Need For Speed
's Autolog, sees friends compete in challenges and races for the best scores and times. If bested, players will receive a message next time they login.
If none of your friends own the game, the computer will find rivals for you to compete against, giving players an added incentive and challenge every time they compete. And although leaderboards remain in all of their glory, constantly having a rival score to beat eliminates the feeling that you're lost among the thousands of players competing for the best time.
Rivals mode also features plenty of themed events to participate in, as well as a host of
Top Gear
-inspired challenges, including the authentic 'star in a reasonably priced car' event, which is already proving to be enormously competitive.
Top Gear
mini-games such as car football also feature, as do specially selected races and events with unusual or challenging conditions. As a fan of the show, it's a real joy to see the license being used in such a novel and inventive way.
Players can also create car clubs, inviting like-minded people to sign up, share cars and take on the rest of the world. It's hard to know how well car clubs will work at this stage, but it's a nice marriage between co-operation and competition.
The icing on the cake is the inclusion of 16-player online racing, which promises some epic battles, especially with courses such as the Nurburgring and Circuit de la Sarthe to choose from.
Kinect features have also been introduced, but will leave little impression on hardcore gamers and veteran
Forza
fans. Using voice commands to navigating menus is a joy and works flawlessly, while in-car head tracking further increases immersion. The dedicated Kinect mode isn't quite as successful, however. Featuring a free-play mode containing the usual races, hot laps and so on, players control cars with nothing more than their arms.
The set-up is extraordinarily basic, requiring players to do little more than steer and pray. Although responsive and generally accurate, it's easy to lose contact with the sensor (ala
Kinect Joy Ride
) when arms cross or veer too far away from the camera. It's much more fun with two players leaning in and away from each other, making it more of a party mode than a viable alternative to the regular control method.
Using Kinect to navigate Autovista is also more hassle than it's worth. It's not that it doesn't work, it's just much slower and clumsier than using a regular controller. On the plus side, Kinect features are seamlessly integrated within the game, and can be turned on and off with ease, making it easy to handpick the better features.
Microsoft has also released the brand new Wireless Steering Wheel in time for
Forza 4
. It's not unlike the steering wheel attachment bundled with
Mario Kart Wii
in terms of function, despite taking some getting used to.
It's weighty, responsive and well designed, although ultimately unlikely to appeal to true virtual petrolheads. It is, however, a great alternative for those requiring a little more racing realism, without shelling out the big bucks for an enormous race wheel.
Forza Motorsport 4
continues to raise the bar for console racing games. The visuals, courses, online modes, physics and handling are second to none, and while the dedicated Kinect mode isn't likely to satisfy long time fans, the best features can be turned on and off with ease.
Forza Motorsport 4
is authentic yet accessible, educating, entertaining, occasionally silly, always spectacular, but most importantly, faster and more thrilling than riding a V12-powered rollercoaster with no restraints.

> What do you think of the game? Share your views