You might find it hard to believe, but your
Gay Spy
scribblers don't spend all their time listening to new Britney songs, perving over pictures of Zac Efron and wondering which discotheque Sophie Ellis-Bextor might be gracing with her presence on any given night. We like to give something back to the stars we write about, which is why we've set up the
Celebrity Romance Anti-Bachelordom Service (CRABS)
. Earlier this week a handsome Hollywood A-lister strolled into our stylish
salle d'amour
, filled out our carefully-compiled form and waited for romance to enter his life. Because we're generous sorts, we've decided to share our top-secret matchmaking process with
you
.
Client Profile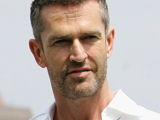 Name
: Rupert James Hector Everett
Age:
'39'
Profession:
Actor, author, occasional TV presenter, all-round bon viveur.
Height:
6'4"
Eyes:
The rich, sensual brown of a Valrhona hot chocolate.
Hair:
In style? Stylishly-cropped. In hue? Sexy salt 'n' pepper.
Body type:
I make Brad Pitt look like an exercise-shy, Kettle Chip-munching couch potato.
What would you say is your best feature?
: My jaw - it's almost as chiseled as Matthew McConaughey's stomach.
What do you do for fun?
I enjoy larking about with Julia Roberts, larking about with Madonna, larking about with Sharon Stone, making
inappropriate comments
on
BBC Breakfast
, dressing up as a middle-aged school mistress and
slagging off Sir Elton John
.
Where is your favourite holiday destination?
Sydney. I recently led their Mardi Gras, you know.
What was the last thing you read?
My autobiography
Red Carpets and other Banana Skins
. And a rollicking good read it was too.
What was the last film you watched?
Either
My Best Friend's Wedding
or
Stage Beauty
. Hmm. Or was it
Shrek 2
?
What was the last album you bought?
I have never bought a pop album in my life! But I did purchase a CD single of Madonna singing 'American Pie' a few years back. I provided the backing vocals, you know. Well,
she
called them backing vocals; if you ask me, it's more of a duet.
Do you smoke?
Mainly herbal. Did I tell you I once offered Colin Firth a joint?
Are you an early bird or a night owl?
What sort of a question is that? A night owl of course! I once noted that "only boring people are brilliant at breakfast". Much mirth ensued, believe you me.
How would you describe your ideal man?
My ideal man is sexy, stylish and successful. He's blessed with exquisite taste, a boundless sense of hedonism and repartee that's fizzier than my morning Alka Setzer. Interestingly, my ideal man might, in fact, be a woman. I enjoyed a six-year affair with Paula Yates in the nineties, in case you've forgotten.
What sort of relationship are you looking for?
These days? Pretty much anything I can get.
Matchmaker's Notes
The client makes Kerry Katona seem lucky in love
But low self-esteem doesn't appear to be the problem
The client would suit a high-profile showbiz partner
But Elton John is not an option
Aaaagh!
CRABS' Suggested Partners
---

Naomi Campbell
We can't think of anyone who's more deserving of the epithet "sexy, stylish and successful"?* Naomi's main selling point is her bevy of A-list mates; she's unlikely to be cowed by Rupert's fondness for namedropping. What's more, Rupert's gym-honed reflexes should be sharp enough to dodge the occasional Nokia missile. *Sadly, Kate Moss has, at present, refused all offers to join
CRABS
.
---

Marc Jacobs
The award-winning designer was recently voted the fifth most powerful gay man in the USA – even Rupert can't fail to be impressed by
that
. He's dressed Sarah Jessica Parker, Drew Barrymore and Scarlett Johansson, so he should able to satisfy Rupert's insatiable appetite for Hollywood gossip. But the success of this match will depend upon Rupert's ability to compromise. Marc recently checked into rehab to be treated for drug and alcohol abuse, so the bon viveur might have to curb his taste for the finer things in life.
---

Simon Cowell
Well, why not fight ego with ego? This celebrity match-up is as carefully-balanced as the wig on top of Joan Collins' head: the media mogul might have a few more pounds in the bank, but the hedonistic thespian trumps him when it comes to A-list mates. Rupert and Simon should enjoy hours of fun comparing investment portfolios, bitching about Paula Abdul and swapping botox tips. The only potential stumbling block? Simon's moobs.
---