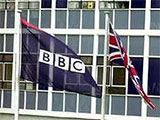 The BBC generates £6.5bn for the UK economy each year, while competitors are "not generally undermined" by its services, a report for the BBC Trust has found.
The watchdog commissioned PricewaterhouseCoopers to research the impact of the corporation on the UK broadcasting and creative sector.
Its conclusions have been published as BBC services come under increasing scrutiny for competing with the commercial sector - particularly in radio and online services such as the growing video on demand market.
PwC found the BBC took audience share from rivals, may have led to private services closing and benefited from being able to cross-promote its services.
"A number of stakeholders, largely competitors (but also others), argued strongly that the BBC has a negative impact through restricting audience, and hence revenue share," said the report. It found the corporation may have contributed to the closure of some services such as former digital-only speech radio station OneWord, which shut in the wake of BBC 7 being launched.
"We therefore consider that the BBC may have a number of negative market impacts, particularly in niche markets where its large presence can have a major impact on competitors. However, generally we uncovered relatively little hard evidence to support these impacts, or with which to estimate their scale."
PwC added: "Data on cross-country comparisons do tend to suggest that overall the TV and radio industries in the UK have been able to attract comparable levels of advertising and subscription revenues, despite competition from the BBC, suggesting that they are not generally undermined by the presence of the BBC."
The report also found the BBC had a large positive economic impact. "Significant investment in both in-house and independent production by the BBC underpins a sector which is becoming increasingly important to the UK economy," said the BBC Trust.
PwC said calculating the gross value add of the BBC was difficult, but estimated the figure at £6.5bn - £4.4bn more than would be generated by a hypothetical commercial alternative.
"The stable nature of this BBC investment in creative production helps sustain a level of vibrant creative activity in all parts of the value chain. Many stakeholders identified the stability the BBC brings to the sector as a major benefit," said the Trust.
The BBC also has a "key unique role in training staff within the sector", has initiated "creative clusters" in regions and pushed new technology, the report found.