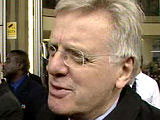 ITV is to cut 600 jobs, 100 more than expected, as part of a massive cost-cutting exercise that seeks to save £245m by 2011.
The broadcaster has decided to suspend the final dividend and said it would seek the immediate disposal of the social networking site Friends Reunited in an effort to "improve the strength of the balance sheet" after announcing pre-tax profits of £167m, down 41% from the year before, with group revenue down 3%.
"Current conditions in the advertising market are the most challenging I have experienced in over 30 years in UK broadcasting," said executive chairman Michael Grade. "This is reflected both in our financial results for 2008 and the tough actions we are announcing today.
"Our priorities have to be aligned to the changed economic context. The Board therefore recognises that the 2012 revenue targets set in 2007 are no longer appropriate and we are focusing on our core business as a producer-broadcaster, on reducing our costs and on cash generation. Our audience share target remains unchanged."
Cost cuts are to be immediately implemented, with ITV's programme budget - previously at the core of Grade's turnaround plan for the broadcaster - slashed by £65m this year, held flat in 2010, and cut by a further £70m in 2011. ITV1's schedule is already being "re-engineered", the company said, noting that production on relatively expensive dramas, such as
Heartbeat
and
The Royal
,
has been suspended
"to limit cash spend", with the mix of programming on the network shifted to entertainment instead.
"Significant savings" of £50m in 2009 and £70m next year will come from job cuts both from "central services" and ITV Studios' out-of-London facilities. It is understood that the Leeds studio site established by Yorkshire Television in the 1960s is to be downgraded from a production facility to a regional news and transmission playout facility.
In addition to its plans to dispose of Friends Reunited, ITV plans to shutter its ITV Local website and focus its online efforts on the delivery of video-on-demand on its main website. It warned that it "is considering options" for the future of its digital terrestrial multiplex business, SDN.
Net advertising revenues were down 4% for the full year to £1,425m; however, the drop in the first quarter of this year is expected to be closer to 17%. In both cases ITV expects to be ahead of the overall market.
"Even in these difficult times, we should not lose sight of the progress the business has made," said Grade. "We are continuing to deliver our advertisers mass audiences night after night and are holding our share of audience and of television advertising. We have delivered revenue growth in Global Content and a huge increase in video views online.
"We welcome the progress we are starting to see with respect to regulation. The review of CRR is well underway and, having approved our 2009 plans, Ofcom has proposed further restructuring of regional news for 2011. In both areas, we believe urgent decisions are called for. ITV, like all broadcasters, is responding to the Government's request for radical ideas on the future of PSB.
"Visibility on future revenues is limited and trading in 2009 remains uncertain. However we expect to continue to outperform the market, increasing our share of television advertising revenues for the full year once again."