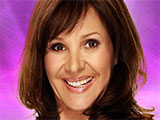 The government's ageism czar
Joan Bakewell
has criticised the
BBC
for getting rid of female news presenters after they reach 50, according to reports.
Speaking in a meeting with the corporation's director general Mark Thompson, Bakewell apparently highlighted the absence of older women on the BBC's news and current affairs programming.
"It's like they have all somehow died off," she said. "Television has this enormous influence and the lack of women over a certain age is damaging."
Her remarks follow a series of recent disputes over the departures of older female news readers from the BBC, most notably with Anna Ford and Moira Stuart.
The corporation has also come under fire for its decision to
replace
Arlene Philips with Alesha Dixon on the judging panel of
Strictly Come Dancing
.
Around 2,000 people complained about the decision and MP Harriet Harman
recently said
that the 66-year-old has been a victim of age discrimination.
Bakewell, who reports to Harman in her role, added: "There are no grey-haired women on TV as there are grey-haired men.
"Mind you, having said that, women would inevitably feel they had to dye their hair to appear."
She told Thompson that a lack older female faces on the BBC would run the risk of society not being "properly reflected" by the corporation.
Currently, the oldest female presenter covering BBC News and current affairs is Kirsty Wark, 54, compared to world affairs editor John Simpson, who will be 65 next month.
Meanwhile, BBC documentaries commissioner Emma Swain stirred up a separate ageism row this weekend after she
reportedly referred
to older presenters as "silverbacks".