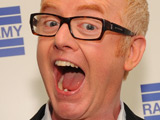 RadioCentre
has claimed that the BBC is hiring certain DJs to attract younger listeners to Radio 2 at the expense of its public purpose.
The commercial station trade body noted that 15 to 34-year-olds are the fastest-growing demographic for the station,
The Times
reports.
Figures also show a 7% drop in listeners aged over 65, while the number of those aged 35 to 44 has risen.
Chief executive
Andrew Harrison
said: "Licence fee payers' money is being used to fund an obsession with youth, as Radio 2 pursues popularity, not public purpose.
"You'd have to ask what happens if Chris Evans were to succeed Terry Wogan, who is 71, in the breakfast show. You'd risk losing the TOGs [Terry's Old Geezers or Gals] and bring in a new swathe of younger listeners."
The broadcaster said that it would not comment on the issue while a review from the BBC Trust is ongoing, but noted that the average age of listeners to Wogan, Jeremy Vine and Dermot O'Leary is 52.
A friend of Evans told the newspaper: "You can't blame Chris, or anybody else coming into the station for being younger than the people they replace.
"If Terry Wogan leaves Radio 2, then that is because the BBC is allowing a 71-year-old to retire."