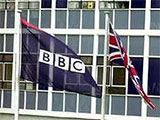 BBC
director general Mark Thompson has said that Sky chairman James Murdoch is "desperately out of touch" with audiences after he recently criticised the corporation.
Last month, Murdoch
derided
the state of British public broadcasting in his keynote MacTaggart lecture at the MediaGuardian Edinburgh International Television Festival.
In the speech, Murdoch said that the BBC is now unable "to distinguish what is good for it, and what is good for the country". He also criticised the shift in Radio 2 focus to appeal to younger audiences, as well as the "nationalisation" of Lonely Planet after BBC Worldwide took a major stake in the travel book publisher.
In an email sent to all BBC employees, Thompson referred to
recent research
as demonstrating the public's support for the BBC, with four out of five people indicating that they are proud of the corporation. He said that this is a "a much higher figure than when ICM asked the same question five years ago".
He continued: "The poll must have made uncomfortable reading for those critics who would like the world to believe that trust and pride in the BBC is getting weaker rather than stronger.
"We've seen a pretty relentless onslaught from the press over the summer, culminating in James Murdoch's MacTaggart lecture.
"The most important thing to say about that lecture and about many of the recent attacks on the BBC is that they are desperately out of touch with what the audience themselves are telling us."
However, Thompson accepted that market conditions have shifted, bringing new challenges for the corporation. He said that the changes are particularly being felt in an upsetting of the "old balance between the BBC and the rest of media" as commercial broadcasters come under increasing pressures while trying to compete in the open market.
The director general also joined BBC Trust chairman Sir Michael Lyons in stressing that the BBC intends to challenge government plans to top-slice the licence fee to the benefit of commercial rivals.