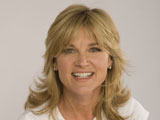 Anthea Turner
has hit back at critics of Chris Evans following the news that he is to replace Terry Wogan on
Radio 2
.
Earlier this week, Wogan
confirmed
that Evans will take over in his breakfast slot next year.
The announcement has sparked anger from some of Wogan's fans, who believe that Evans is a poor choice of successor.
Gloria Hunniford
was one of many to express "reservations" this week.
However, speaking to the
Daily Express
, Turner commented: "I can't believe the amount of people that are getting their knickers in a twist about this. Chris is excellent and is going to bring a whole new audience to the show. It will be the start of a new era for Radio 2."
On Evans's bad boy reputation, she continued: "He has matured and developed and has changed and improved as a broadcaster. Life is different for Chris now - he is happily married, has a young son and his audience has also grown up with him.
"People are very small-minded and narrow-minded. Terry's loyal following should give Chris's programme a go before they start sharpening their pencils. I can't think of a better presenter to take it over."
Evans
described
Wogan as a "national institution" as he paid tribute to the veteran presenter on Tuesday.