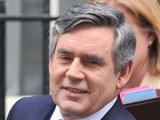 Prime Minister
Gordon Brown
is prepared to take part in US-style televised debates with rival leaders for the next general election, according to
The Guardian
.
Conservative leader David Cameron
recently wrote
to
Sky
News boss John Ryley to express his willingness to participate in TV debates. Liberal Democrats leader Nick Clegg is also happy to be involved in the format.
However, Brown's position on the issue has remained unclear, with some suggesting that he favours the existing prime minister's questions in parliament.
Clarifying the position, business secretary Lord Mandelson said that the Labour party is "broadly positive" about the concept of a TV debate, although he stressed that there are many details to be locked down before it can go ahead.
"There are many detailed issues to be discussed including when they should start, where they should take place, how many will there be and whether other ministers should take part in other debates," he said.
"These and other issues are fairly big questions on which a lot of people are going to have different views. So it is not quite as simple as saying 'Yes I am in favour of debates' or 'No I am not'.
"We have got to talk through and reflect on all these issues, both with the broadcast organisations and the other political parties between now and the election. I think that is what we are probably going to start doing."
Along with Sky News, the
BBC, ITV
and other broadcasters are expected to launch their own TV debate programmes.
Various formats are currently being discussed, including questions from a studio audience or a panel of journalists, along with the involvement of minority political parties in the process.