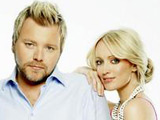 Radio DJ
Kyle Sandilands
invited a pastor to bless his 2Day FM breakfast show after he returned from a month-long, unpaid suspension.
The controversial host, who was
temporarily axed
after saying that weight-loss advocate Magda Szubanski could become thin if she was put in a concentration camp, returned to his 2Day FM breakfast show with Jackie O earlier this week.
Sandilands, who also
hit headlines
with his co-host earlier this year for questioning a 14-year-old rape victim about her sexual history live on air, promised listeners that he would now think before speaking.
"I am probably going to think about things that I say from now on," he said, adding: "Man, getting suspended is very boring."
Sandilands then introduced a pastor and said: "I think maybe I might have still had a little bit of evil in me. So what I've decided to do... is bring a priest... just to bless us and the show and get rid of any evil before we get started."