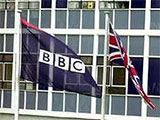 The BBC will defy recent criticism of its public value by releasing a report claiming that it generates £7.6bn per year for the British economy, it has emerged.
Commissioned by chief operating officer Caroline Thomson, the detailed report will outline the £4bn which would be lost to the country should the BBC be privatised.
To be published this month, the consultation will further claim that independent TV and radio production firms would lose £1.4bn under a non public-funded BBC, reports
The Guardian
.
Using data compiled by accountancy firm Deloitte, the report will estimate that the BBC's involvement in driving forward digital services such as
Freeview
has created a new mini-industry worth up to £250m a year. The corporation's commitment to employ around 7,000 people for production bases in Bristol, Glasgow and Cardiff brings a further £200m to the economy.
The BBC is facing widespread challenges against its hold on the £3.6bn licence fee, including ongoing criticism from rival players such as Sky about its reach into the commercial marketplace.
Former BBC director general Greg Dyke, who is currently conducting a review of media policy for the Conservative party,
recently called
for a scrapping of the licence fee to save over £100m a year in administration costs.
Under Dyke's plan, the BBC would continue to draw its funding from the public purse, either from a grant or general taxation. However, the Tories are widely expected to reduce the BBC's size and scale should the party secure power at the general election this year.
Last month, the BBC was slammed for spending £3.9m on art as part of a £813m refurbishment of its Broadcasting House headquarters. Author PD James further used her guest editor spot on BBC Radio 4's
Today
programme to
question
BBC director general Mark Thompson about the "extraordinarily large" salaries paid to top BBC management.
However, the new report is designed to show that the licence fee investment actually generates double its value for the UK economy by supporting the creative industries.
As independent production firms provide around 40% of the BBC's TV output, the document estimates that the sector would be around two thirds its current size if a public-funded BBC was not in operation.
According to an insider, the report is firmly slanted towards persuading policy makers about the corporation's value to the economy during the ongoing recession.
"In tough economic times our decision makers need to find new ways of supporting jobs and businesses," said the source.
"They need to see the BBC not as part of the problem, but as part of the solution by creating and sustaining jobs, particularly when the market falters."
In October last year, the BBC Trust
backed
Thompson's plans to cull over 100 senior BBC managers and also trim top executive pay by 25% over the next three and a half years.