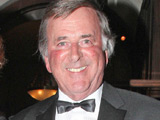 Sir Terry Wogan
departed his long-running Radio 2 breakfast show on a ratings high, with over 8m listeners tuning in every week during the final quarter of 2009.
After announcing on September 7 that he was stepping down from the
Wake Up To Wogan
show, Wogan gave a final, emotional broadcast on December 18. During the three-month period, his 8.1m listening figures matched his previous record gained in Q1 2008.
The veteran broadcaster will start his new two-hour show,
Weekend Wogan
, on February 14 at 11am live from the 350-seat Radio Theatre in BBC Broadcasting House.
BBC Audio & Music director Tim Davie said: "Terry is a legendary broadcaster and these figures show his popularity has never been higher.
"I'm now looking forward to tuning in to his new show later this month, along with all the TOGs. I'm also pleased to see growth amongst our digital-only stations and robust figures across the BBC Radio portfolio."
According to data released today by RAJAR (Radio Joint Audience Research), Wogan also closed his breakfast career with a clear lead over rival Chris Moyles as just 7.24m listeners turned in to his Radio 1 show, up from 7.04 million the previous quarter.
During the three months to December 20, all BBC Radio stations achieved a weekly reach of 33.26m listeners, down from 33.52m last year and 33.58m the previous quarter.
BBC stations held a 55.2% share of the total audience, down from 55.7% last year but slightly up from 55% last quarter.
The corporation's 12.6% lead over commercial stations held firm from the previous quarter's results, but was down from 13.5% at the close of 2008.
Radio 1 held 10.76m listeners every week over the three months, up from 10.58m last year but down from 11.11m last quarter. Radio 2 had 13.47m listeners, up from 13.46m last year but down from 13.62m last quarter.
A drop was also seen at Radio 3, where its weekly reach of 1.87m listeners declined from last year's 1.98m and last quarter's record high of 2.19m. Radio 4 reached 9.84m, up from last year (9.81m) but down from last quarter's high of 10.21m.
Around 6.19m listeners tuned in to Five Live (including Sports Extra), up from 6.11m last year, but down from 6.53m last quarter.
Digital-only service BBC 6 Music grew its audience to 695,000 listeners from last quarter's 624,000 and last year's 619,000.