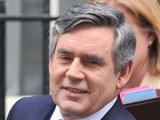 The BBC, ITV and Sky have reached an agreed format with the UK's main political party leaders for the ground-breaking televised election debates.
Labour prime minister Gordon Brown, Liberal Democrat leader Nick Clegg and Conservative leader David Cameron have signed up to a 76-point plan for the debates, which covers everything from handshakes and podium position to audience participation.
All three broadcasters will run live debates on a weekday mid-evening in front of a studio audience, with half of each programme carrying a distinct theme.
The leaders will face predetermined questions from a studio audience carefully selected by market research company ICM to reflect a broad stroke of the UK population.
Audiences will be prevented from applauding or jeering while the leaders are speaking, but will be able to make noise at the start and end of each 90-minute programme.
Hosted by Alastair Stewart in the North West of England, the first debate will run on ITV1 with the theme of domestic affairs.
Sky News will host the second programme from England's South West, with Adam Boulton moderating the discussion under the theme of foreign policy.
David Dimbleby will present the final debate on BBC One, which will be filmed in the Midlands and carry the vital theme of the economy. Sky and ITV will not run commercials during their debates.
The broadcasters drew lots to determine the debate order and allocation of themes, while party leaders also drew straws to determine their order of speaking.
Clegg will open the first debate, with Brown launching the second and Cameron opening the third. However, exact dates for each programme still depend on what day the general election falls on.
Under the agreed debate framework, each party leader will be able to make an opening statement on the programme's theme before tackling questions from viewers.
Audience members will be able to submit their questions in advance via email, but each broadcaster will ultimately decide how to invite question topics.
Each leader will be able to respond to their opponent's answers and react to audience questions in the free debate section, although they will not have prior knowledge of the subjects to be discussed.
All statements, answers and rebuttals will be limited to around one minute, with longer statements pegged at one minute 30 seconds at the end of each programme.
A spokesperson for the broadcasters said: "We warmly welcome the agreement by the party leaders to take part in these innovative programmes.
"We were delighted by the positive atmosphere in all our dealings with the parties over the last few months, and the agreement we are jointly announcing today represents a major step forward in the way election campaigns can reach the entire population."
However, Nationalists and other smaller parties will be disappointed by their lack of involvement in the main UK debate format, with SNP leader Alex Salmond recently
expressing
his hope at participating in Sky's programme.