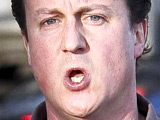 Deputy Labour leader Harriet Harman has criticised the rules governing audience participation in the forthcoming TV election debates.
Last week, Sky, the BBC and ITV
confirmed
that they have reached an agreed debate format with Labour prime minister Gordon Brown, Liberal Democrat leader Nick Clegg and Conservative leader David Cameron.
Under the plans, the 200-strong audience at each debate will be prevented from applauding, jeering, booing or heckling while the leaders are speaking, but will be able to make noise at the start and end of each 90-minute programme.
Speaking on BBC One's
The Andrew Marr Show
, Harman said: "Why do we have to control the British audience?
"I mean are Brits going to sit there and be told: 'Don't groan, don't laugh, don't clap'. I don't think people will do that, I think people will engage."
Shadow defence secretary Liam Fox said that the rules will make the programmes "incredibly sterile" in a similar way to 2008's US presidential debates between Barack Obama and John McCain.
"You were not allowed to applaud, not allowed to cough, not allowed to laugh, not allowed to do anything," he said.
"Even the temperature was controlled to a degree that it wouldn't get too hot for the candidates under the lights."
Under the agreed schedule, ITV1 will host the opening debate from the North West of England, with Alastair Stewart acting as host under the theme of domestic affairs.
Sky News will carry the second programme from England's South West, with Adam Boulton moderating discussion around the theme of foreign policy.
David Dimbleby will present the final debate on BBC One, which will be filmed in the Midlands and carry the vital theme of the economy. Sky and ITV will not run commercials during their debates.