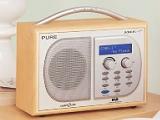 Over a million more people will soon be able to receive the BBC's digital radio services under expansion plans to the UK's digital radio network.
Following recent criticism of its proposed closure of digital stations 6 Music and the Asian Network, the BBC has moved to demonstrate its commitment to digital radio in the UK.
The corporation has pledged to invest in a further 60 digital radio transmitters to fulfil its Royal Charter commitment to reach 90% of the UK population.
Currently heading through Parliament, the government's digital economy bill has set the target date of 2015 for the digital radio switchover to begin, but that would only come into force should digital account for 50% of radio listening by 2013. It presently stands at just 21.1%, with the vast majority on digital audio broadcasting (DAB).
Under the BBC's rollout plans, 15 new digital radio transmitters will be launched in Scotland, bringing improved coverage to Glasgow and Dundee, along with first-time availability in the Shetland and the Western Isles.
In Wales, ten transmitters will be introduced to expand digital radio reach in mid-Wales, North Wales and South-West Wales. Northern Ireland will get seven new transmitters, bringing digital radio services to Enniskillen and the North Antrim coast, along with improving coverage in Belfast.
In England, three new transmitters will be established in Greater London and the Home Counties to boost reception across the capital and provide coverage to the Kent Weald, High Wycombe, Stevenage and Welwyn Garden City.
The South West will get nine new transmitters, including digital radio expansion for Newquay, Bodmin, Tiverton and Teignmouth. Derbyshire will get two new transmitters, while Saffron Walden, Shaftesbury, Stroud and Sunderland will also see their digital radio coverage boosted.
Following the rollout, listeners in all areas will be able to access the BBC's portfolio of digital-only and national networks, along with other stations available on DAB. The BBC hopes to complete the implementation by 2011, with the first transmitters coming on air in the summer.
Commenting on the plans, BBC director of audio and music Tim Davie said: "The BBC is fully committed to digital radio [and] I'm delighted that we are now in a position to deliver on the BBC Trust's target to bring digital radio to 90% of the UK."
The BBC currently operates five digital-only radio networks - 1Xtra, 5 Live Sports Extra, 6 Music, Radio 7 and the Asian Network.
However, BBC director general Mark Thompson's
strategy review
recently proposed the axe of 6 Music and the Asian Network, along with a rebranding of Radio 7 as Radio 4 Extra.