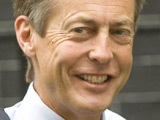 Culture secretary Ben Bradshaw has confirmed winning bidders for pilot schemes in England, Wales and Scotland for the government's ITV regional news replacement service.
Announced today, newspaper publishers Johnston Press, Herald and Times Group and DC Thomson have succeeded in their joint bid for the Scottish trial with independent TV production firm Tinopolis. In the process, they beat a proposal from ITV licence holder in Scotland
STV
in collaboration with ITN and Bauer Radio, which will act as the reserve choice.
The English trial at Tyne Tees and Border will be handled by Trinity Mirror, the Press Association and independent TV production company Ten Alps. The consortium beat strong competition in the shape of a joint proposal from ITN, Johnston Press, Newsquest, Bauer Media and the University of Sunderland, which will take the reserve slot.
In Wales, ITV Northern Ireland licence holder UTV will take the pilot in collaboration with newspaper publisher NWN Media. A sole proposal from Tinopolis will be the reserve option.
The three chosen consortiums will share a £47m pot of public money over the next two years under the independently funded news consortia (IFNC) scheme. Winning bidders will be required to provide ITV local news in their region, along with radio, mobile and online media services.
Richard Hooper, who led an independent selection panel for the trials, said that he was "most impressed" by the quality of submitted applications.
"We asked for innovation and were not disappointed. We asked bidders also to think about longer term sustainability without public funds," said Hooper.
"Given the political uncertainties surrounding IFNCs, my colleagues and I were particularly impressed by the sustained enthusiasm and resource commitment of the bidders and the momentum that has built up to deliver innovative multi-platform multi-layered news in Wales, Scotland and the Borders/Tyne Tees region of England, competing with the BBC."
Bradshaw said that the regional news trials will be an "important step towards our goal of ensuring choice for people who value high quality, independent local news".
He added: "The funding available to these consortia represents a massive commitment from this government to help encourage the long term sustainability of news in the nations, locally and in the regions. I hope this focussed work will now continue with everyone working together to ensure these pilots are up and running by the end of the year."
Hooper's panel said that the Johnston Press-led Scottish bid represented an "imaginative and innovative" approach to news provision, which will provide a "credible news alternative to the BBC in Scotland". The group was particularly praised for its planned web portal for aggregating 130 local newspaper sites.
The UTV proposal was chosen due to its pledge to "deliver a harder-edged TV news programme reflecting the needs of a devolved nation". UTV was also praised for its strong track record in providing news in Northern Ireland and "clear vision" for fostering a community-based approach to news reporting.
The Trinity Mirror consortium was selected for Tyne Tees and Border after promising a new multi-platform news production studio at the Newcastle Chronicle offices.
Under legal requirements, there will now be a ten day 'standstill' period before contract discussions with the winning bidders can recommence.
The trials could get underway in April or May, but the Conservative Party has already pledged to fight the scheme from ever going into operation. In January, shadow culture secretary Jeremy Hunt
said
that the Tories will "unpick" any agreed trial contracts with bidders if it secures power at the general election.