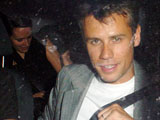 Richard Bacon
has claimed that his BBC Radio 5 Live radio show has "grown-up" since moving to afternoons.
The presenter, 34, admitted that he considered the shift from hosting a late night programme to the weekly 2-4pm slot at the start of the year to be "a promotion", joking that BBC management would now listen to his show.
"There are more breaking news stories, more court cases in the day. Plus, the management are more likely to hear it! During night-time, no management would ever hear anything you did, which was quite fun," he told
DS
.
"When I took over that late show I changed the last hour. I would do things like, 'Have you seen ghosts?', 'Have you seen a UFO?'. It was a break from Five Live's news-on-that-day focus. I liked that, I really liked that a lot. And I guess I miss that.
"On daytime there is more scrutiny, management hear everything I do. So I guess I have changed the show a bit. Hopefully not in a boring way, but the show's hopefully reached a more grown-up stage."
Bacon also confessed that he enjoyed teasing controversial guests with provocative questions on the show. "I will do my research and when you get people on the show like Paul Daniels and Michael Winner, there is plenty of provocative stuff to work with.
"I just need to pull the pin out of the grenade. You can't do that with all guests, but it is a gift when you get them."