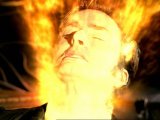 Doctor Who
concluded its run with a series low last night (Saturday), according to early figures.
The unusually hot weather led to the sci-fi series dropping to 6.19 million viewers, or a 41.8% audience share, between 7pm and 7.45pm.
A BBC spokesperson pointed out that the show was still the most-watched programme of the day and continued to be "king of Saturday evening."
Earlier, documentary
Doctor Who: The Ultimate Guide
had pulled in 2.77 million (23%) while on BBC Three, spinoff
Doctor Who Confidential
was multichannel's top draw at 677,000 (6.8%).
Casualty
was the day's number two with 5.92 million (34.9%), while
Murder in Suburbia
ranked as ITV1's best-performing show with an average of 3.9 million (22.4%).
Elsewhere,
Big Brother
dipped to 2.4 million (13.5%), finishing fourth place in the 9pm hour (
more
).
Ratings data supplied by ViewingFigures.com